HR Self-Service Portal is launching on 6th June 2022 for the following areas who are part of Implementation Group 1:
Clyde Sector
Diagnostic Services
North Sector
Regional Services
Inverclyde HSCP
Glasgow City HSCP

Please note that from Monday 6th June 2022 the link and system will only be accessible to those in Implementation Group 1:
https://nhsnss.service-now.com/ggc_hr
Please ensure that you add the link to your Favourites for easy access.
User videos have also been created in order to provide a clear demonstration of how to log an enquiry or request for HR support (case management). The videos can made full screen by clicking on the 'Fullscreen' arrows at the bottom right of the video.
Submitting an Enquiry demo:
Request for HR Support Demo:
If your enquiry is urgent or you would prefer to talk to one of the HR Assistants please contact us by telephone 0141 278 2700 option 2. The team are available at the following times:
Monday – 9.00am until 3.30pm
Tuesday – 9.00am until 3.30pm
Wednesday – 9.00am until 3.30pm
Thursday – 12.00pm until 4.00pm
Friday – 9.00am until 3.30pm
Please note calling the HR Support and Advice Unit for the first time you will be required to provide some key details about who you are and where you work.
This may take an extra few minutes however it will assist us to most appropriately respond to your enquiry.
Your details will be stored in our system which means when you contact the HRSAU again these details will not need to be taken and a simple check will be done to ensure the details are still correct.
Please use this link which provides further details of the information that managers will be required to provide when contacting HRSAU
Using HR Connect is Tier 1 of the new Human Resources and Organisational Development service model.
Tier 2 is the Human Resources Support and Advice Unit.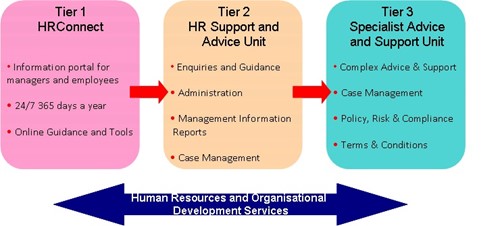 Where to find us
HR Support and Advice Unit
Department of Human Resources & Organisational Development
2nd Floor, West Glasgow ACH
Dalnair Street, Yorkhill, Glasgow, G3 8SJ