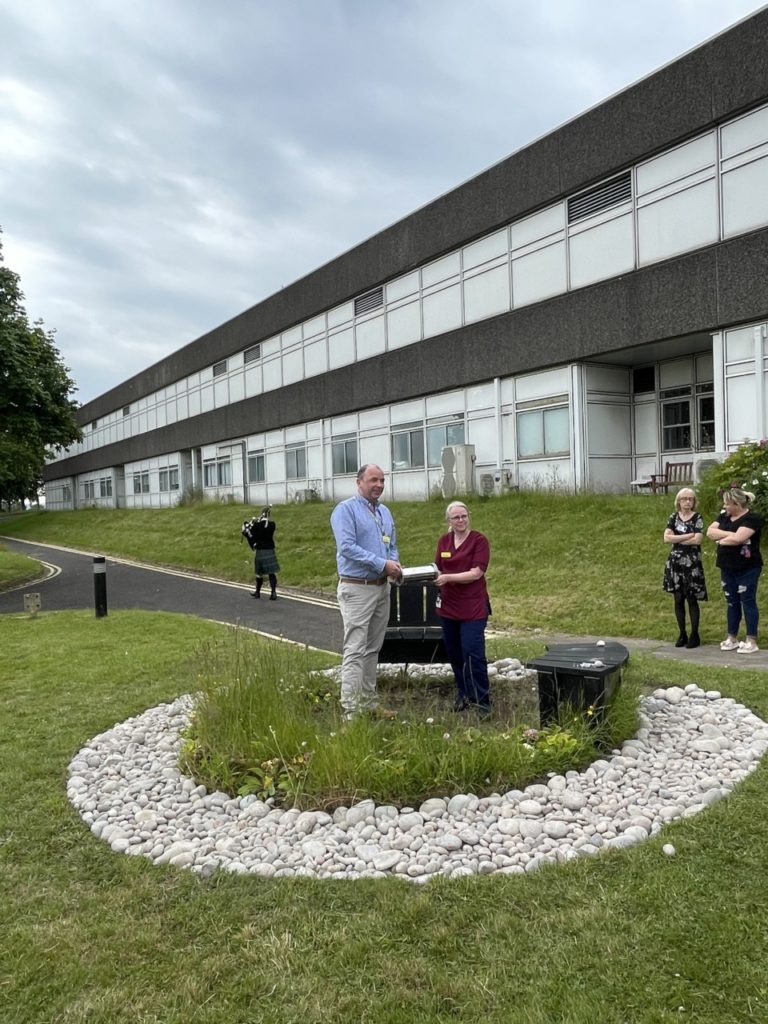 A stunning new garden space designed and built in collaboration with staff, patients and families of patients of the Intensive Care Unit at the Royal Alexandra Hospital has officially opened.
The idea for the new HALO Gardens originated with staff from the ICU, who wanted to develop a space to honour organ donors and those affected by COVID-19 and provide users of the service with an accessible and welcoming outdoor area. The project has delivered a series of small, intimate garden spaces outside the Chaplaincy for the use of the ICU. These spaces include seating and plants, and will offer sanctuary and social space that is socially distanced, yet comfortable and accessible for patients, staff and visitors.
Yvonne Dolan, Lead Nurse within Critical Care at NHSGGC's Clyde Sector, says the value of having an accessible outdoor space for the use of patients, families and staff within the RAH has become increasingly important over recent years. She said: "The space is quite beautiful and will be of huge benefit to our ICU community. Outdoor visiting was invaluable to some of our patients during long stays within the Intensive Care Unit whilst COVID restrictions were in place.
"It was also noticeable the benefits to staff in being able to get outside for a short time when their working conditions were so challenging. The design of the HALO gardens will provide these users a safe space for rest and reflection away from the clinical environment. I look forward to seeing the HALO gardens flourishing and thank all of those involved in their development."
Funding to deliver the project was received from NHSGGC charitable Endowment Fund and Scottish Forestry, via the Green Exercise Partnership. HALO Gardens are an initiative started by Erz Landscape Architects, a Glasgow based design practice who have been working with the NHS for many years. Erz Landscape Architects have delivered the project, working alongside volunteers from within and beyond the hospital community, coordinated by the Renfrewshire Environment Trust. Extensive engagement was carried out with previous ICU patients, families and ICU staff to guide the design of the HALOs. For example, one of the HALO circles incudes Forget-Me-Nots, which symbolically is associated with several areas of health care including organ donation.
Felicity Steers, director at Erz, said: "During the first lockdown we were really keen to try to do anything we could to help support the NHS. We also had to furlough some of our staff, who were not allowed to work but could undertake research. HALO emerged from research into a quick and viable way to create lovely places to get outside during COVID. "Getting outside is not just safer but has multiple health and wellbeing benefits for staff and patients. Our first ICU HALO Garden is at RAH, where these spaces will be used for rest, respite, outdoor visiting, therapies and getting ICU patients outside for fresh air and an uplifting change of scene."
At the opening event, music was provided by a bagpiper and a time capsule containing postcards written by those involved in the project and objects associated with the pandemic was buried in one of the gardens, and is planned to be dug up again in 20 years' time.
To complement the HALO gardens, the project group is currently seeking design ideas for a mural that can be painted onto the side of the Chaplaincy building.
The story of RAH HALO Garden will be the first on the map and people can find out about others, and apply for their own through the site. Its www.halogardens.eco – HALO is a not for profit project and division of Erz.