The NHSGGC LGBTQ+ Staff Forum is a group of staff members made up of those that identify as lesbian, gay, bisexual, transgender, queer inclusive (LGBTQ+) and our allies. The group aims to create a safe and welcoming space for staff members within our LGBTQ+ community though our social activities, programme of events, formal and informal meetings.
Our LGBTQ+ forum aims to:
Create visibility for LGBTQ+ people within our organisation
Provide a point of contact and sign posting
Actively be involved in policy development within NHSGGC
Be as accessible as possible with a mailing list, meetings, activities, events, and social media presence
Provide networking opportunities with other forums and groups
If you would like to join our forum please contact: lgbtforum@ggc.scot.nhs.uk and if you wish to join the forum's mailing list, please be assured that your personal details will not be disclosed and you can be part of the forum anonymously. Emails sent will always be blind copied.
The Forum has a social media presence on Facebook (www.facebook.com/groups/nhsggclgbtforum) and Twitter (@LgbtStaffForum).
Amanda Law has been interim Chair of the LGBTQ+ Staff Forum since April 2021 and is an Acute Clinical Nurse Educator at the Royal Hospital for Children, Glasgow.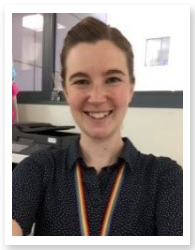 Chairing the Forum with energy and enthusiasm, Amanda shares "I've been fortunate to witness first-hand the kindness, laughter and sense of community that comes with being a part of the LGBTQ+ staff forum. I'm passionate about building a safe space for LGBTQ+ colleagues through peer support, social engagement and visibility within our organisation."
Amanda looks forward to growing and developing our LGBTQ+ Staff Forum, as part of Growing our Great Community.