A new way for our health services to send you key information
Some services in NHS Greater Glasgow and Clyde are starting to use our digital Patient Hub, allowing us to keep you up to date with your key information. We may use this to:
Provide you with details about your appointments,
Inform you about the results of your recent tests,
Send you health questionnaires to complete ahead of appointments,
Send you information relevant to your care.
The services available, through the Patient Hub, will expand over time.
How will I be contacted by the Patient Hub?
Patient Hub works by sending you a either text message (SMS) to the mobile number or an email to email address we have on file for you. These messages contain a link to a web site where you can logon securely to see the information you have been sent.
All messages will appear in the format below, with a secure webpage link.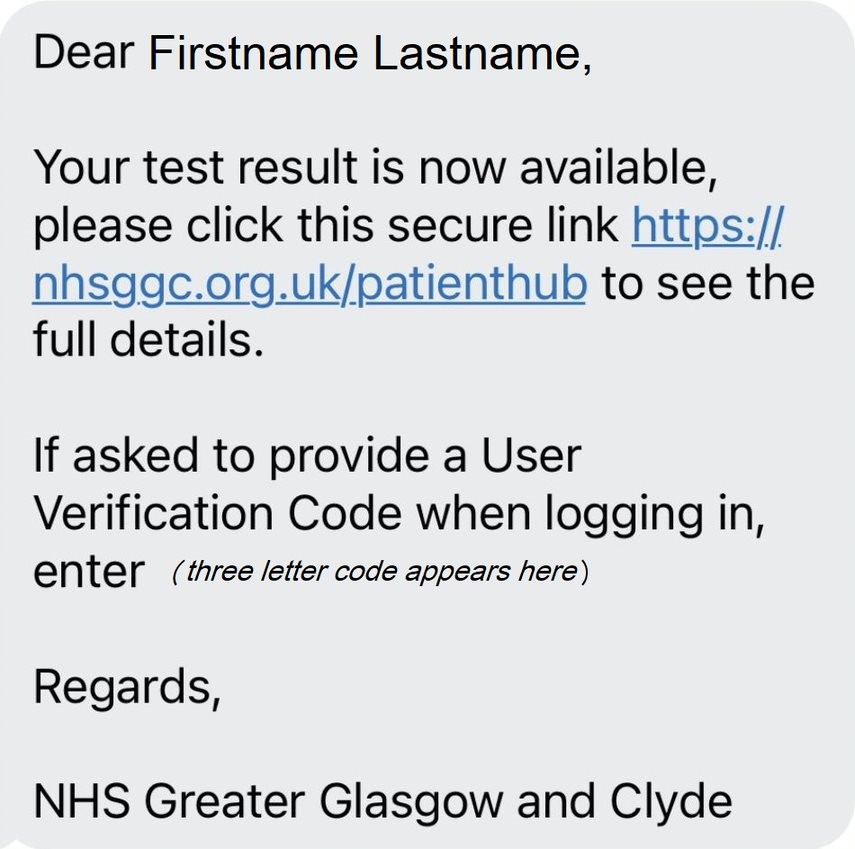 The sender of such SMS messages will be shown as: NHS-NoReply
On emails, the sender will be shown as: Patient Hub
With an email address of: patienthub@ggc-apps.scot.nhs.uk
We are currently experiencing a technical issue with the link detailed below in the grey box.
As a temporary solution, please log into the following site https://patienthub-nhsggc.onmats.com/login, then follow the remaining guidelines below
Thanks for your understanding with this issue.
Will I be asked for information and is it secure?
If you receive a notification either through email or text message, from the senders listed above, you can be assured that all links are safe to click.
You will be asked to complete the following security steps to access your information:
For security purposes, you will be asked to enter your date of birth (or that of the patient you are acting on behalf of).
You will be asked for either your mobile number or email address. You are not required to enter both.
A security code will then be sent to the mobile number we have on file for you, which you will be asked to enter.
All verification information you share is stored on our secure system and is only used to let you log into Patient Hub.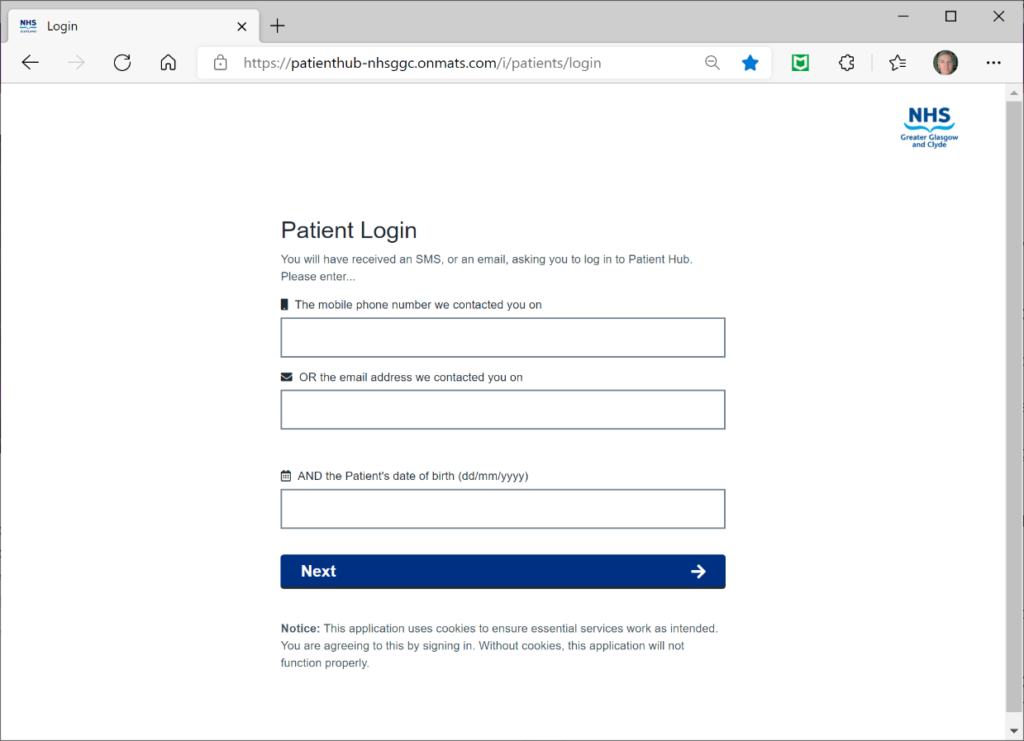 The secure website you will be directed to is: patienthub-nhsggc.onmats.com/i/patients/login
These SMS messages will be sent from: NHS-NoReply
While emails will be sent with sender name: noreply
And address: noreply@netcall-health-patient.onmats.com
What about my confidentiality?
The message that arrives on your phone or email makes no reference to the type of service or test result we are contacting you about.
I am having trouble logging in or don't understand what to do
Patient Hub does not work on older browsers, such as Internet Explorer, so please make sure you are using an up-to-date browser.
Services using Netcall Patient Hub will provide information by other means if you do not manage to log in.
I prefer not to receive notifications by SMS or by email
You can change your message preferences or opt out at any time after you log in.
To do this visit your profile page and select whether or not you wish to receive SMS or email updates. PLEASE NOTE: Patient Hub is used across NHSGGC and it is not possible to opt out of message from just one service, should you opt out you will opt out of all services you receive updates for. For full details of how NHSGGC use your data please visit our online privacy page.
I would like the notifications to go to a different mobile or email address
Your contact details are kept up to date on our secure Patient Management System. If you wish to amend where these notifications are sent, please request a change when you next attend a clinic or contact a service in one of our hospitals. PLEASE NOTE: Your contact information can be used across NHSGGC and it is not possible to alter the delivery location for just one service. Any change in email or mobile phone number will be applied across all services you receive messages from. For full details of how NHSGGC use your data and how to change your data, please visit our online privacy page.
Issues Connecting to Patient Hub
"If you encounter issues connecting to Patient Hub, try clearing your website history, cache and cookies to "reset" your browser and remove potential conflicts. if you are unsure how to do this, please check with your browser supplier"