Within the team there are many years of experience in orthopaedic nursing and the nursing staff have many specialist skills in caring for orthopaedic patients. In our department you will meet nurses trained in caring for you from your first visit, to pre-operative assessment and follow up.
Mairi MacKinnon – Limb Reconstruction Clinical Nurse Specialist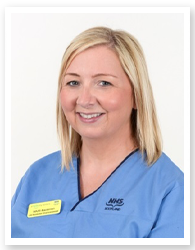 Mairi MacKinnon is the Limb Reconstruction Clinical Nurse Specialist based at Glasgow Royal Infirmary. She has recently joined the limb reconstruction team having previously served within the orthopaedic department as the musculoskeletal oncology nurse specialist for over 2 years.
Mairi manages all limb reconstruction patients including patients with external fixators, in particular, circular frames. She also assists the Intramedullary Nail Clinic where all tibial patients attend for review. As part of her role within the limb reconstruction service, she manages complex surgical wounds and has extensive experience in Negative Pressure Wound Therapy.
Pamela McKirdy – Orthopaedic Staff Nurse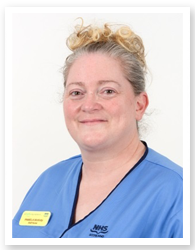 Pamela McKirdy is a Staff Nurse in the Orthopaedic Outpatients Department. She has worked in Orthopaedic Outpatients for 24 years gaining a wealth of experience and knowledge in Orthopaedic conditions, trauma and elective surgeries and wound care. She has completed the casting course and has specialist training and experience in managing both elective and trauma surgeries post-operatively and on many occasions it may be Pamela who will review your condition or surgery in a stand-alone clinic where your entire care will be managed by experienced nurses and your x-rays reviewed. She is able to consult directly with senior medical staff if appropriate regarding any unusual findings.
Sarah Vaughan – Oncology Clinical Nurse Specialist
Sarah is the Clinical Nurse Specialist for the Musculoskeletal Sarcoma Oncology Service based at Glasgow Royal Infirmary. Sarah recently joined the team having previously worked as an Oncology Clinical Nurse Specialist for 6 years within another Trust.
The Oncology team form part of a specialist service who have extensive knowledge and expertise in managing Sarcoma. This team provides a comprehensive service that covers investigation of suspected disease, diagnosis, treatment and follow-up.
It's Sarah's job to provide support throughout this time, offering advice and a point of contact whilst patients undergo investigations and/or treatment.