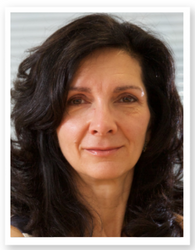 Biography
Emilia became a member of the NHS Board in February 2022.
Emilia qualified in Medicine in 1991 and after gaining the Royal College of Physician exams, she joined the West of Scotland training scheme for Public Health Medicine. During this time, she gained a Master in Public Health (Glasgow University 2000) and became Member of the Faculty of Public Health (2004). In 2006 she was elected Fellow of the Faculty of Public Health and served two terms as Convenor of the Faculty of Public Health in Scotland.
Emilia joined NHS Greater Glasgow in 2006 as a Consultant in Public Health Medicine and was appointed lead clinician for screening programmes; head of Health Services Section; Deputy Director of Public Health; and during 2015 and 2016 and again in 2022 Interim Director of Public Health.
Emilia led the implementation and ongoing delivery of new national screening programmes like abdominal aortic aneurysm; and bowel screening; was a strong advocate for healthy public health policy like the introduction of a minimum price per unit of alcohol sold; sugar tax; and effective drug addiction interventions. She remains passionate about effective health preventative interventions including those addressing the fundamental causes of ill health like poverty and inequity.