The NHS Greater Glasgow and Clyde Board meets every two months, on the last Tuesday of the month (exceptions denoted by *), on the dates shown below. Meetings start at 9.30am, and are held virtually via Microsoft Teams.
22nd February 2022
26th April 2022 
28th June 2022
23rd August 2022*
25th October 2022
20th December 2022*
28th February 2023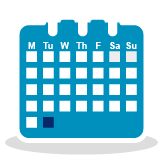 The next meeting takes place on Tuesday 22nd February 2022 at 9.30am.
If you wish to watch the proceedings, please email NHSGGCBoardMeeting@ggc.scot.nhs.uk, and a link to access the MS Teams feed of the meeting will be sent to you.
The agenda, minutes and papers for NHSGGC Board meetings are published on the Friday before the meeting and are embargoed until 9.30am on the morning of the Board Meeting.
Agendas, minutes and papers of previous Board meetings can be accessed from the link below.