Join NHSGGC and the LGBTQ+ Staff Forum in Celebrating Pride.
This June the LGBTQ+ community and our allies come together to show support for our LGBTQ+ community, invest in our staff and raise awareness of progress made and the challenges that still exist for many of us.
The NHSGGC LGBTQ+ Staff Forum is a group of staff members made up of those that identify as lesbian, gay, bisexual, transgender, queer inclusive (LGBTQ+) and our allies. The group aims to create a safe and welcoming space for staff members within our LGBTQ+ community though our social activities, programme of events, formal and informal meetings.
If you would like to join our forum please contact: lgbtforum@ggc.scot.nhs.uk and if you wish to join the forum's mailing list, please be assured that your personal details will not be disclosed and you can be part of the forum anonymously. Emails sent will always be blind copied.
The Forum has a social media presence on Facebook (www.facebook.com/groups/nhsggclgbtforum) and Twitter (@LgbtStaffForum). 
Stands
Come along and meet us at our Pride stalls. We'll be on a selection of hospital sites to provide information about our LGBTQ+ Staff Forum and you can sign up to the NHS Scotland Pride Badge Pledge.
7 June, GRI Pride 10.00am until 2.00pm
10 June, QEUH Pride 8.00am until 4.00pm
17 June, RHC Pride 10.00am until 2.00pm
Posters
We have a supply of NHSGGC Pride posters available from the QEUH Information office. The posters are available for display in departments and provide information about the range of events planned across the Pride month of June. We look forward to seeing you!
Events
All events are free to attend, please reserve your ticket by emailing lgbtstaff.forum@ggc.scot.nhs.uk
LGBTQ+ Health Needs Assessment presentation
23 June 10.00am until 11.45am Queen Elizabeth Hospital
Please join us for a presentation of findings from the recent Public Health Needs Assessment for LGBTQ+ people living in Scotland. The work was commissioned by NHS Greater Glasgow and Clyde, NHS Lothian and Public Health Scotland and the findings will be presented on the day by the research author Traci Leven. This is one of the most significant pieces of research into the health experiences of LGBTQ+ people in recent years and provides some stark reminders that we still have a long way to go secure equality in health and social care outcomes.
The Bingo Babes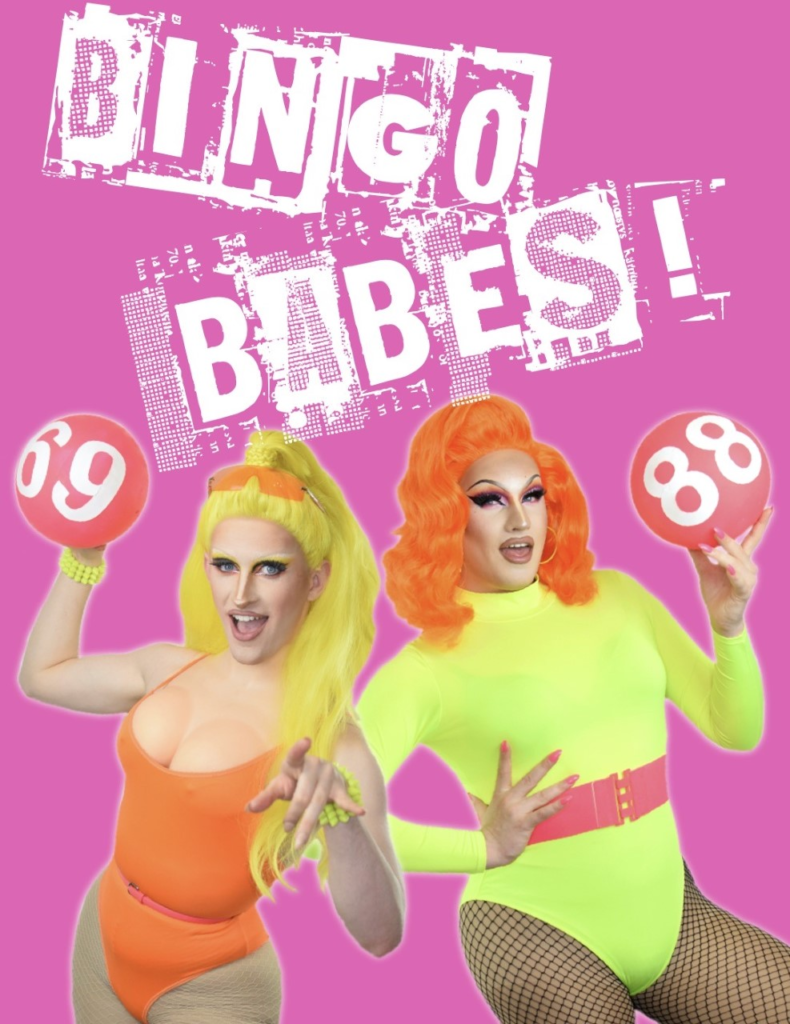 23 June 7.30pm until 9.30pm Glasgow Royal Infirmary
"With a flutter of false lashes & a shower of glitter the lovely Bingo Babes will be taking over for a raucous night of bingo! There'll be mischief, mayhem, and more jokes than you can handle, with fabulous prizes to be won and drag performances too. You'd better not miss it!"
Queer Quiz
24th June 7.30pm until 9.30pm
Join us as our quiz master as they host a general knowledge quiz with some special LGBTQ+ themed rounds! There is a prize for the winning team!
The Equality Network – LGBTI Awareness Session
24 June 2.00pm until 4.00pm Glasgow Royal Infirmary and Live Stream
'This LGBTI awareness workshop will broadly cover terms and definitions, social challenges facing LGBTI people, legal rights for LGBTI people, top tips & correct language and do's and don'ts for inclusion, ending with a Q&A. It is intended to help people gain a greater level of confidence and be less afraid of getting things wrong when dealing with or supporting LGBTI people.'