Service Overview
The Beatson West of Scotland PET centre is located on the Gartnavel Hospital Campus. If you have been referred for a PET-CT scan, we will post you an appointment letter, patient information leaflet and directions to the PET Centre. These should provide all the necessary information regarding where and when to attend, what preparation is required and answer many other questions you may have. However, should you have any further queries regarding your PET-CT scan, please call the department on 0141 301 7800 and staff will be happy to help.
Below is a video of what to expect when attending the department for a PET scan.
Additional Information
Location
The West of Scotland PET Centre is on the Gartnavel Hospital Campus in the Tom Wheldon building of the Beatson Cancer Centre;
1053 Great Western Road, Glasgow, G12 0YN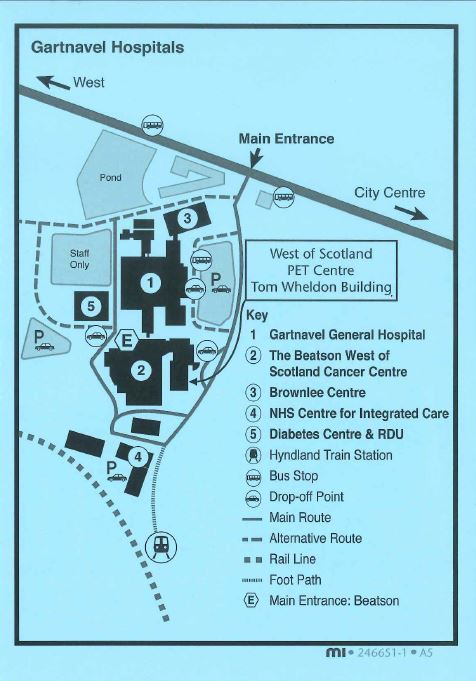 Scottish Ambulance Service
The Scottish Ambulance Service has a central booking service which allows you to book ambulance transport. If you require this service, please phone 0300 123 1236 at least 3 days before your appointment but no sooner than 30 days in advance. Lines are open from 8:00am to 8:00pm Monday to Saturday.
Voluntary Hospital Transport Service
There are several options available if you require Hospital Transport Services to attend your appointment. Please see contacts below:
East Dumbarton Voluntary Drivers – 01412809527
Lanarkshire Voluntary Drivers – 01698355137
Ayrshire Voluntary Drivers – 01563538008
Deparment Contact Details
Call: 0141 301 7800
Other Useful Links
Last updated: 27/07/2022